Italy's coalition vows to remove Genoa bridge firm's licence
Comments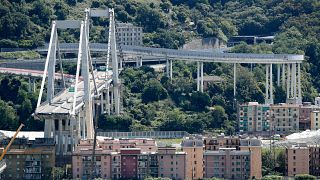 Italy's populist ruling coalition showed a united front in its push to revoke concessions held by Autostrade per l'Italia to operate toll highways after a bridge it managed collapsed this week, killing 41 people.
Matteo Salvini, head of the far-right League party and a deputy prime minister said the coalition was on the same page with regard to the operator.
While Luigi Di Maio, also deputy prime minister and head of the Five Star Movement, was adamant: "I say this loud and clear - the political will is there. We want to revoke the concession of Autostrade per l'Italia."
On Friday, the Prime Minister Guiseppe Conte said the government had formally sent a letter of complaint which launches the process for revoking the concession.
Shares in Atlantia, which owns Autostrade, fell more than a third. The company said the bridge had been monitored every three months as had been required by law.
The Ministry of Transport says the bridge operator has 15 days to prove it carried out the essential maintenance work. It also wants to the company to rebuild the bridge at its own expense.
Autostrade said its chairman and chief executive officer would outline initiatives to support victims' families, missing people and those evacuated from their homes as well as others aimed at helping traffic in the city.
It will be the company's first public appearance since the disaster.