Husband of missing Colorado woman arrested
Comments
By Dennis Romero and Andrew Blankstein with NBC News U.S. News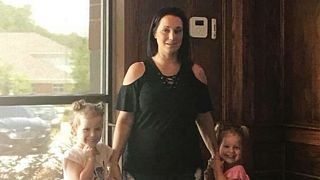 Copyright

Frederick Police

-
A Colorado man was arrested Wednesday night in connection with the missing persons case involving his wife, Shanann Watts, and their two daughters, police said in a statement.
Chris Watts was taken into custody and is awaiting charges, officials with the csaid.
Shanann Watts, 34, who is 15 weeks pregnant, and her daughters Bella, 4, and Celeste, 3, were believed to have gone missing Monday after Chris Watts left for work, authorities said.
An Amber Alert for the case was never issued because Shanann Watts' vehicle was found at the family's home in Frederick, Colorado, a suburb of Denver, authorities said.
Speaking on the "Today" show, Chris Watts said the couple had an emotional conversation after she returned home from a business trip early Monday. Before he left for work a few hours later, he took in a last view of his daughters on a baby monitor, he said.
Later that day, he said, "I texted her a few times, called her, but I didn't get a response. That was a little off."
About noon that day, he spotted a friend of his wife come to the door of the family home as he watched on a remote security camera. When no one answered, he became worried, he said on "Today."
"I don't feel like this is even real right now," Watts said. "It's like a nightmare I can't wake up from."
Shanann Watts was reported missing at 1:40 p.m. MT (3:40 p.m. ET) on Monday, according to Frederick Police Department Detective Dave Baumhover.
The Colorado Bureau of Investigation issued a missing persons alert. The FBI joined the investigation, authorities said Wednesday.