Grieving mother whale abandons body of her dead calf after a heartbreaking weeks-long journey
Comments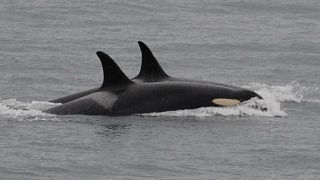 Copyright

Center for Whale Research
A grieving orca whale has released the body of her dead calf after carrying it on her back for at least 17 days and 1,000 miles through the Pacific Ocean in an unprecedented act of mourning, according to researchers.
On Saturday, Tahlequah, as the mother has come to be called, was spotted swimming without the infant balanced on her head for the first time since July, according to Centre for Whale Research founder Ken Balcomb.
Tahlequah's mourning had astonished and devastated much of the world.
"Her tour of grief is now over and her behavior is remarkably frisky," read an update on the research center's website.
The orca, known as J35, is finally back to feeding and frolicking with her pod after what appeared to be a prolonged grieving period of 17 days.
The research organisation in Washington state said it watched the orca chase a school of salmon in Haro Strait west of San Juan Island on Saturday afternoon.
The centre said whale-watchers near Vancouver, British Columbia, had reported seeing Tahlequah without her calf's body last week, but Saturday was the first time researchers were able to confirm those reports.
The mother finally abandoned the carcass as it began to decompose.
The orca gave birth on July 24 in what should have been a happy milestone for her long-suffering clan. The whales have been struggling because of a lack of salmon, and J35′s calf died soon after birth.
The conservation group said on their website that approximately 75% of newborn killer whales in the last two decades have not survived, and 100% of the pregnancies in the past three years have failed to produce viable offspring.