Ukrainian political prisoner Sentsov in 'catastrophic' condition, cousin claims
Comments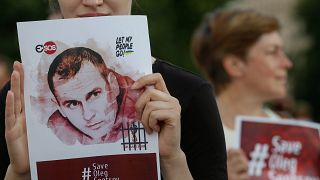 The health of Ukrainian filmmaker Oleg Sentsov, who is on hunger strike in prison in Russia, has worsened dangerously, according to his cousin Natalia Kaplan. In her post on Facebook on Wednesday she called his condition "catastrophic":
"Oleg has passed a letter to me through his lawyer. He barely gets up. He wrote that the end is near, and it's not about being free. He asks if there is still an interest regarding his hunger strike, he does not receive any letters."
Russia's Federal Penitentiary Service denies these claims.
Sentsov was arrested in Crimea following its annexation by Moscow in 2014 and later sentenced in Russia to 20 years in a penal colony for "plotting acts of terrorism", a conviction widely considered political. On May 14 of this year, he went on hunger strike, demanding the release of all Ukrainian political prisoners convicted in Russia.
He has been supported by the international community of filmmakers, activists and political leaders. On Friday, French President Emmanuel Macron spoke by phone to Russia's Vladimir Putin about Sentsov, suggesting a humanitarian solution to the situation should be urgently found.
Russia's Federal Penitentiary Service for the Yamalo-Nenets District has denied claims that Sentsov's health has severely deteriorated. The High Commissioner for Human Rights in the Russian Federation has passed photographs of Sentsov to her Ukrainian colleague claiming Oleg Sentsov is active, watches TV, reads books and writes from time to time.
In a press release on Tuesday, it noted that Sentsov is under "constant dynamic supervision" by medical staff and that he is prescribed treatment aimed at maintaining basic bodily functions and preventing the development of complications.
"Our examination did not establish a deteriorating health condition ... the state of health of Sentsov is estimated as satisfactory," the report read.
In July, Sentsov's mother, Lyudmila Sentsova, sent a letter requesting her son's pardon to President Putin. The letter has now been received by the presidential administration, press secretary Dmitry Peskov told journalists of Russia's Ria news agency.
"I know that this letter was received by the relevant subdivision of the presidential administration, but for the time being I am not ready to tell you about any reaction," Peskov said.
[This story was updated on 14/08/2018 to include more detail about Sentsov's condition.]