Ryanair strike spreads across Europe
Comments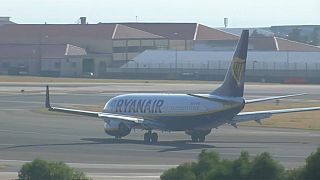 Ryanair pilots in Germany are striking for 24 hours today and forcing the cancellation of 250 flights, reaching a Europe-wide total of 400 cancellations.
This adds to industrial action already planned for today in Ireland, Sweden, Belgium and the Netherlands.
The strike is over improved pay and conditions.
The airline says it is cancelling 400 of over 2,400 flights today due to a strike by pilots also in Ireland, Sweden, Belgium and the Netherlands at the height of the vacation travel season.
The airline said 85 % of its Friday flights would operate and that customers affected would be informed by text.
They would have the option of a refund, rebooking on the next flight or rerouting.
Officials said flights should return to normal on Saturday.
Ryanair built its low-cost business model without unions, but said last year it would recognise them.
Labour representatives are seeking collective bargaining agreements in the different countries.