Europe briefing: Five stories to know about today
Comments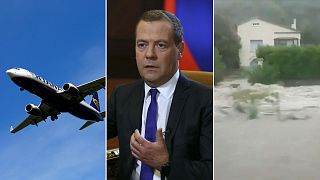 German man goes missing as heavy rain fuels floods in France
More than 400 firefighters, police and four helicopters have been dispatched to southern France to tackle heavy floods.
Around 1,600 people, most of them campers, have been evacuated after storms swept the country and flooded rivers on Thursday. A 70-year-old German man who was supervising about 100 children at a summer camp also remains missing.
The Gard, Ardeche and Drome regions have been hit hardest by the storms, which also left 17,000 homes without power in the southwest and northeast of the country.
Portugal, Spain wildfires 'under control'
Cooling temperatures, light rain and firebreaks have helped stall wildfires which have been spreading through Portugal and Spain since last week, but winds could trigger reignitions, civil protection officials warned on Thursday.
Around 1,300 firefighters have been tackling fires near Monchique, south of Lisbon, which have blackened almost 58,000 acres of woodland and forced hundreds to evacuate from their homes. Over 40 people, one seriously, have been hurt in the blaze.
In Spain, a wildfire near Valencia came to a halt Thursday after scorching 7,400 acres of land over four days.
Russian PM: US sanctions 'a declaration of economic war'
Russian Prime Minister Dmitry Medvedev says sanctions to be levied on Moscow by the US would be tantamount to "economic war".
Speaking to the TASS news agency on Friday, he said: "I would not like to comment on talks about future sanctions, but I can say one thing: If some ban on banks' operations or on the use of one or another currency follows, it would be possible to clearly call it a declaration of economic war. And it would be necessary, it would be needed to react to this war economically, politically, or, if needed, by other means. And our American friends need to understand this."
Washington announced Wednesday that they were penalising Russia after deeming them responsible for poisoning a Russian double agent on UK soil using a military-grade nerve agent "in violation of international law" on chemical weapons use.
The sanctions are set to come into effect around August 22.
France 'to take in migrants from Spain'
The French presidency has said they would take in 20 out of 87 migrants who were rescued off the Libyan coast this week and transported to Spain. The migrants, mostly from Sudan, arrived in the southern Spanish port of Algeciras on Thursday.
A team from French refugee office Ofpra will be dispatched to the country to handpick the migrants that will move to France, Elysee Palace confirmed.
Emmanuel Macron's office hailed the move as an example of European solidarity, saying Spain was experiencing a spike in migrant arrivals.
In June, France also took in 78 asylum seekers who landed in Valencia after being rescued in Libya by the Aquarius.
Ryanair strikes begin across Europe
Ryanair pilots in Germany are striking for 24 hours today, adding to walkouts already planned for today in Ireland, Sweden, Belgium and the Netherlands.
The strike is over improved pay and conditions, and has prompted the cancellation of 400 flights at the height of the summer holiday season.
Ryanair says passengers should have the option of a refund, a rebooking for the next flight or rerouting.
The Dublin-based airliner added that normal operations should resume on Saturday.
As it happened on Friday, August 10
This is how we covered key developments this morning: