Europe briefing:7 stories to know about today
Comments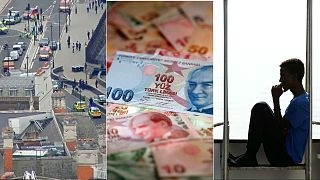 1. UK Parliament car crash
A man in his 20s was arrested on suspicion of terror offences after crashing a car into the barricades of the Houses of Parliament. The mornings incident is being treated as terror-related at this stage.
Several people were injured and the London Ambulance Service said it had taken two patients to the hospital with non-life-threatening injuries after cyclists and pedestrians were hit. 
Our correspondent was at the scene. Keep up to date with Euronews for the latest. 
2. Turkey currency crisis
After three weeks of losses, Turkey's lira finally recovered as the country's central bank moved to ease pressure on the currency, triggering a 7 percent surge to 6.4 per dollar. 
But tensions with the US are at a low afterTurkey's President Recep Tayyip Erdogan said the government "will boycott US electronic products".
Washington has imposed sanctions and raised tariffs against Ankara in a dispute about the detention of a US evangelical pastor.
Erdogan said Turkey has been taking necessary measures regarding the economy, amid a slide in the lira currency, but it was important to keep a firm political stance. Erdogan also said switching to foreign currency would mean giving in to the enemy.
3. Norway minister loses job after holiday in Iran with girlfriend
Norway's minister of fisheries resigned after his earlier admission that he breached government security protocols during a holiday to Iran last month.
Per Sandberg, who initially failed to notify colleagues of his whereabouts and also took his government-issued mobile phone to Iran.
The government requires ministers to inform the prime minister's office of where they are going and forbids the use of government-issued phones in a country with which Norway does not have established security cooperation.
He was on holiday with his 28-year old Iranian born girlfriend who has Norwegian nationality. 
4 Parisians are peeved over open-air urinals
A new set of eco-friendly but exposed urinals installed on the streets of Paris are provoking uproar from locals.
Parisians have written to the town hall to demand its removal and are planning a petition.
Local mayor Ariel Weil insisted the devices were necessary for areas where public urination is a problem.
So far four open air-urinals have been installed, and a fifth one is planned. 
Read more here.
5. Migrant deadlock
The rescue boat Aquarius, which was denied entry to Italy and Malta in June, is once again looking for a safe place to dock. Last time it docked in Valencia, but Spain has said it will not accept the new ship, which is carrying 141 migrants.
Italy and Malta have also refused the ship to dock at their ports, while some say the UK should take responsibility for the ship as it is sailing under a Gibralter flag. 
6. Monaco noble sues France for €351m in row over throne
A French-born aristocrat is suing France for €351m in damages, alleging it tricked his family out of inheriting the throne of Monaco.
Count Louis de Causans, told the Le Parisien newspaper that early in the 20th Century France changed the succession rules to thwart a German claim to the throne and installed the Grimaldis to the throne.
De Causans said that his legal action is not aimed at Monaco's current ruler, but the French state. 
7. The world's most liveable city
And a European city has for the first time topped the list for the world's most liveable city. 
Vienna in Austria has overtaken Australia's Melbourne in the Economist Intelligence Unit annual global survey.
The survey ranks 140 cities on a range of factors, including political and social stability, crime, education, and access to healthcare.
Read more here. 
Follow live updates here: