Dead diver's family overjoyed after camera containing his final photos is found
Comments
By Cyril Fourneris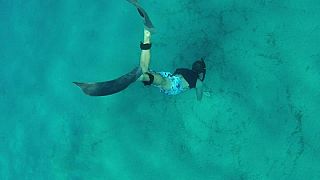 -
Copyright

Supplied photo
The valued camera of a French diver, who died last month while taking underwater pictures off the coast of Pietracorbara in Corsica, has been found.
Yannick Lippini's camera was not found during the initial search and his family had put out a plea on social media to try and locate the prized item.
But on Wednesday the diver's sister, Marie, tweeted that it had been recovered and thanked everyone for their support.
Marie told Euronews that a girl contacted her on Twitter to let her know that her parents had found the camera near Bastia — a city in northern Corsica.
She sent Marie a picture of the camera and it corresponded with the one they were looking for.
Lippini's mother, Michele, also thanked everyone that helped in the search, especially the divers in Bastia and the Cap Corse that looked for the camera all over the seabed.
Investigators said Lippini suffered a blackout and was found at the bottom of the sea.
Photo album for parents
Marie said her brother was taking photos in the hope of making a picture album for their parents when he died.
"We are particularly keen to discover his latest photos," Marie said, adding her brother died doing what he loved.
"It was his last day in Corsica, he wanted to make the most beautiful photos possible to offer a photo album to our parents," she said.