SEEHOFER PROMOTES MIGRANT ANCHOR CENTRES
Comments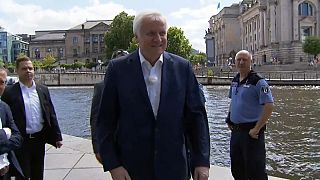 Germany's Interior Minister Horst Seehofer has called on other German states to follow Bavaria's lead in establishing more so-called 'Anchor Centres' for migrants.
In an interview broadcast on ARD yesterday evening, Mr Seehofer called for the creation of more centres, the first of which opened on Wednesday. In German, the name is an acronym for 'Arrival, Municipal, Distribution, Decision and Repatriation'.
He insisted that he expected support from Angela Merkel on the issue.
It follows the pair's recent conflict over migrant policy. 
The state rededicated its seven existing initial reception facilities to the project. 
Critics regard the new facilities as inhuman and fear they will turn into mass dormitories.