Zimbabwe's Mnangagwa beats opponent Chamisa in Presidential Election
Comments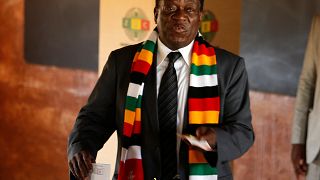 Zimbabwe's electoral commission says President Emmerson Mnangagwa has won Monday's election as the ruling party maintains control of the government in the first vote after the fall of longtime leader Robert Mugabe.
The opposition is almost certain to challenge the results in the courts or in the streets. Mnangagwa received 50.8 percent of the vote while main opposition challenger Nelson Chamisa received 44.3 percent.
While election day was peaceful in a break from the past, deadly violence on Wednesday against people protesting alleged vote-rigging reminded many Zimbabweans of the decades of military-backed repression under Mugabe.
Western election observers who were banned in previous votes have expressed concern at the military's "excessive" force in the capital, Harare. Their assessments of the election are crucial to the lifting of international sanctions on a country whose economy collapsed years ago.
Shortly before the announcement early Friday, a man who said he was the chief agent with Chamisa's opposition alliance claimed that they had not signed the election results and rejected them. Police asked him to step aside.