Toll from Greek fires climbs with death of firefighter's wife
Comments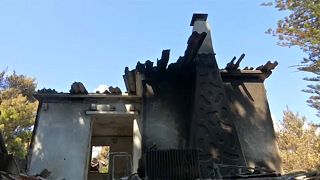 The toll from Greece's wildfires has risen with the death in hospital of a 35-year-old woman injured in last month's tragedy,
The woman was the mother of a six-month-old baby boy, who was the youngest victim of the fire which swept through the resort of Mati on July 23rd.
In a tragic twist, her husband was a firefighter battling the blazes not far from where his wife and child were trapped.
At least 91 people died in the fires and scores more people were injured.
As the clean-up continues, the Greek authorities have begun processing emergency relief funds for the survivors.
The first 18 families have received initial payments of 5000 euros.
The Infrastructure Ministry has pledged to support households and businesses affected by the disaster.
So far, more than 1,100 applications have been received.
On Monday the government will start demolishing houses that were illegally built and may have contributed to the tragedy by cutting off escape routes.