Thousands take part in Jerusalem gay pride parade
Comments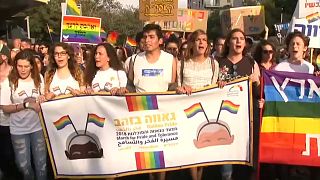 Some 20,000 people turned out for Jerusalem's annual Gay Pride parade, flanked by police officers after threats by some Jewish activists to disrupt the celebration.
Waving rainbow flags emblazoned with the Star of David, throngs of people marched through the streets of central Jerusalem amid tight security.
In 2015, an ultra-Orthodox Jewish man stabbed a 16-year-old girl to death and wounded five others.
Thursday's rally opened with a minute's silence to honour the girl.
A few dozen people demonstrated against the parade.
Several protesters scuffled with police and officers made four arrests.