Cities around the world celebrate International Beer Day, as Germany grapples with demand
Comments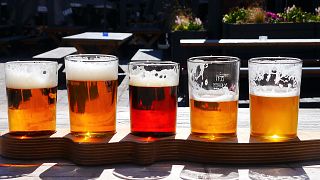 Breweries and beer-lovers all over the world are celebrating International Beer Day. The annual event, which was founded in 2007 by beer enthusiast Jesse Avshalomov, takes place on the first Friday of every August.
Avshalomov and some of his friends organised the event to celebrate and give thanks to beer, one of the oldest favorite man-made drinks around.
The event's purpose is to "gather with friends and enjoy the deliciousness that is beer," according to IBD's website. It also celebrates beer makers and servers.
Which countries around Europe indulge in the drink the most? Euronews takes a look.
Fun facts: The Netherlands is the world's biggest beer exporter, while Germany produces more beer than any other nation. The European Commission provides the statistics:
Thanks to the extreme heatwave in Europe that has prompted a spike in demand for cold drinks, Germany has announced that its brewers are running out of bottles and crates necessary to make beer. In Germany, bottles are brought back by customers and reused by companies, but the speed at which they are being returned this summer isn't enough to keep up with production demand.