Theresa May tries to sell Brexit to Macron
Comments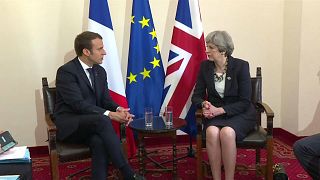 Theresa May was due to meet French President, Emmanuel Macron at his Fort de Brégançon retreat in the south of France today.
The British prime minister is hoping to soften France's stance on Brexit or risk a chaotic UK departure from the EU.
The French President is seen by many as the biggest obstacle to her plans for a pro-jobs trade deal.
Mrs. May has yet to find a proposal to maintain economic ties with the bloc that's acceptable to Brussels and her divided party.
Last week Michel Barnier, the European Union's Brexit negotiator, rejected key elements of Britain's new trade proposal:
"The EU cannot and the EU will not delegate the application of its customs policy and rules, VAT and excise duty collection to a non-member, who would not be subject to the EU's governance structures."
May's chances looked tenuous on Thursday as the French president said he had full trust in Barnier and supported his reserved response to the UK plan.
Friday's meeting, he said, is not a substitute for the negotiations led by Michel Barnier.
Mrs. May will urge Macron to work with Angela Merkel, the German chancellor, to back an unprecedented EU association agreement with the UK.
If successful, Macron's influence could prove vital in swaying the rest of the EU27 member states - and Barnier - into adopting a more flexible approach ahead of a crucial summit in Salzburg in next month.