Watch: Could Zimbabwe see its first change of party since independence?
Comments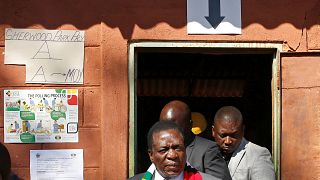 Zimbabwe has closed its polls and counting is underway in the country's first ever election without Robert Mugabe on the ballot paper.
Votes aren't officially going to be announced until the 4th August but there are rumours in the country that it could come much earlier.
Turn-out was high as the country chooses what could be its fourth leader since gaining independence in 1980. Zimbabwe's third President, Emmerson Mnangagwa had promised a free and fair election after ousting Robert Mugabe last November.
Opposition leader Nelson Chamisa tweeted that after 10,000 polling station counts - his party have done "exceedingly well". Chamisa had already said that he would contest the vote if his party were not the outright winners. Popular amongst Zimbabwe's youth, Nelson Chamisa's MDC Alliance party has invigorated the campaign.
If Emmerson Mnangagwa does not take the vote – it will be the first time in Zimbabwe's 38-year history that the political party Zanu-PF will not be in power. Zanu-PF, however still have wide support across the country with Mugabe's former party representing the end of colonial ties and white-minority rule. The result of this election looks set to reveal a lot about Mugabe's relevance in modern Zimbabwe.
Surprising many, however, Mugabe appeared to come out in support of Nelson Chamisa's MDC Alliance party the day before the vote saying he could not vote for "those who tormented" him.