President Trump open to 'no preconditions' Iran meeting
Comments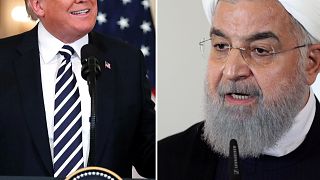 President Trump has hinted he would be open to a meeting with Iran with "no preconditions" just months after withdrawing from the Iran Nuclear Deal. 
Speaking at a press conference alongside Italy's Prime Minister Giuseppe Conte, the President said "I believe in meeting. I would certainly meet with Iran if they wanted to meet.
"I don't know that they're ready yet, they're having a hard time right now. But I ended the Iran deal. It was a ridiculous deal. I do believe that they will probably end up wanting to meet, and I'm ready to meet any time they want to."
When asked if such a meeting would come with any conditions, President Trump replied "no preconditions."
Just over a week before President Trump had tweeted a strongly worded warning to the Iranian President. 
Using capitalised letters he warned of dire consequences "THE LIKES OF WHICH FEW THROUGHOUT HISTORY HAVE EVER SUFFERED" if Iran threatened America. 
The tweet appeared to be a response to remarks made by Iranian President Rouhani, who cautioned America against pursuing hostile policies to Tehran.  "Peace with Iran is the mother of all peace", the President said, but war with Iran "was the mother of all wars". 
US Secretary of State Mike Pompeo said he supported the President's willingness to meet with Iran, but in an apparent divergence from the President's stance he listed a series of conditions that would first have to be met. 
"If the Iranians demonstrate a commitment to make fundamental changes in how they treat their own people, reduce their malign behavior, can agree that it's worthwhile to enter into a nuclear agreement that actually prevents proliferation, then the president said he's prepared to sit down and have the conversation with them" Pompeo told CNBC. 
An adviser to the Iranian President tweeted that returning to the nuclear deal and respecting Iran's rights would clear the path for dialogue.