Berlin brown as satellite pictures show impact of heatwave
Comments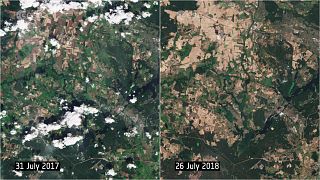 Newly-released satellite pictures have highlighted the impact of a drought and heatwave around Berlin.
Images published by the European Space Agency (ESA) show how the warmer-than-normal temperatures have turned the ground from green to brown over the last year.
The pictures were taken from a satellite funded by Copernicus, the EU's earth observation programme.
"These two images from the Copernicus Sentinel-2 mission show agricultural fields and land around the capital of Germany, Berlin," said ESA in a statement.
"Although some of this land is used to cultivate wheat, among other crops, and appears in brown as harvested fields (ripe wheat), other areas, such as those close to Berlin Tegel Airport and Berlin Tempelhof Airport are not agricultural.
"Nevertheless, we see significant changes in these areas, with a clear shift from the lush green palette of July 2017 to the multitude of browns shown in the image from July 2018."
It comes as German farmers intensified calls for around €1 billion in special aid on Tuesday after crop damage.
Berlin said it would wait for an August harvest report before making a decision.
Poor growing weather, including a heatwave and lack of rain, has damaged crops in France, Germany and the Baltic Sea countries, while a shortage of animal feed is also looming after damage to corn crops and grass.