Pussy Riot activists are re arrested after having served 15 days in detention
Comments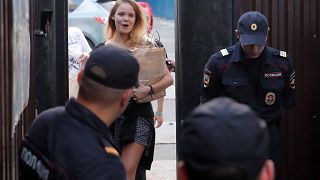 Delight soon turned to dismay for four members of the activist group Pussy Riot after being released from detention in Moscow.
Within moments they were promptly re-arrested by police.
Olga Pakhtusova, Olga Kurachyova and Veronika Nikulshina were clearly surprised as they walked out of the correctional facility.
The fourth protester, Pyotr Verzilov, who was being held separately, was reportedly also re-arrested.
It was not immediately clear why the group has been detained.
The have already been held for 15 days for "seriously violating the rules of spectator behaviour", after invading the pitch at the recent FIFA World Cup final at the Luzhniki Stadium, dressed as police officers.
However, a tweet on Pussy Riot's official Twitter page said they were being charged with "the organisation and holding of public events without prior notice" and could face another 10 days behind bars.
Their protest which came in the 53rd minute of the match, took place in front of Russian President Vladimir Putin, as well as French and Croatian leaders.
Pussy Riot said they had disrupted the game to call for the release of "political prisoners" in Russia and the end of arrests during peaceful protests.