FIFAgate: Two TV executives on trial for football corruption in New York
Comments
By Euronews with AFP, AP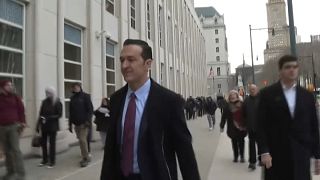 The trial has begun in New York of two former executives of the US TV company Fox Sports and the Argentinian agency Full Play.
Hernan Lopez and Carlos Martinez have pleaded not guilty to charges of corruption, bank fraud, and money laundering, as part of the so-called FIFAgate scandal.
The US court alleges that between 2005 and 2015, "the defendants paid annual bribes and kickbacks" to officials of the South American Football Confederation in exchange for lucrative broadcast rights.
They also allegedly gained insider information to secure US broadcast rights to matches at the 2018 and 2022 World Cup.
The case is part of the so-called 'FIFAgate' corruption scandal that rocked world football's governing body in 2015, costing then-FIFA president Sepp Blatter his job.