Pussy Riot upstages Putin with World Cup protest
Comments
By Associated Press with NBC News World News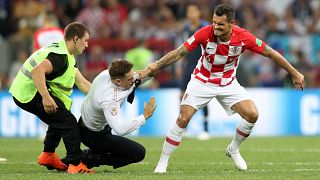 -
MOSCOW — The protest group Pussy Riot, long a thorn in Russian President Vladimir Putin's side, claimed responsibility Sunday for disrupting the World Cup final when four people briefly ran onto the field dressed in police uniforms as a global audience watched.
Related
Stewards tackled the three women and one man, who charged onto the field simultaneously in the 52nd minute of one of the world's most viewed sporting events.
Croatian defender Dejan Lovren pushed the man, helping a steward to detain him, and suggested that the incident put Croatia off its game. Croatia was down by 2-1 when the protest happened and eventually lost, 4-2, to France.
"I really was mad, because we'd been playing at that moment in good shape," he said. "We'd been playing good football, and then some interruption came. I just lost my head, and I grabbed the guy, and I wished I could throw him away from the stadium."
Before being hauled away, one of the women reached the center of the field and shared a double high-five with French forward Kylian Mbappe.
The four, who were charged with violation of spectators' rights and illegal wearing of law enforcement symbols, could face penalties of up to 11,500 rubles (US$185) or 160 hours of community service, the news agency Interfax reported.
The heavily political punk performance group released a statement calling for the freeing of political prisoners, an end to "illegal arrests" of protesters and acceptance of "political competition" in Russia.
The statement also referred to the case of Oleg Sentsov, a vocal opponent of Russia's annexation of Crimea from Ukraine in 2014, who was sentenced in 2015 to 20 years for conspiracy to commit terrorist acts. He denies the charges and has been on a hunger strike since mid-May.
The group said the police uniforms symbolized how Russian police's actions fall short of their "heavenly" depiction in literature and called for reforms. It wasn't clear whether they used the uniforms as a ruse to enter Luzhniki Stadium amid tight security, and the group couldn't immediately be reached for comment.
A video circulated on Russian social media after the match appeared to show two of the protesters, still in police uniforms, being harshly interrogated at a police station. The independent Russian TV channel Dozhd identified one of them as Pyotr Verzilov, one of the group's most prominent members.
Putin was watching the game alongside his French and Croatian counterparts and FIFA President Gianni Infantino, among other dignitaries. FIFA, the organizing body of world soccer, didn't immediately respond to a request for comment.