Russian protests continue over pension reform
Comments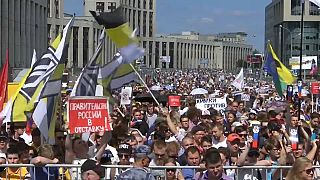 Thousands of Russians took to the streets for a second consecutive day of protests over plans to raise the retirement age.
According to a recent poll, around 90 percent of the population oppose the bill.
Opposition leader Alexei Navalny called the reform a "crime".
"I came here, just like any other normal person would to protest against what they call 'a tax reform, a pension reform', which essentially means robbing tens of millions of people," he said.
The crowd chanted slogans critical of President Vladimir Putin whose approval ratings have been dented by the bill.
The authorities detained two protesters including a former deputy energy minister.
The government insists raising the retirement age is inevitable.
The proposal, which aims to increase the retirement age to 65 for men and to 63 for women, is part of an unpopular budget package designed to shore up government finances.
Putin, who once promised not to raise the retirement age, has tried to distance himself from the pension plan.