Georgia's Guram Tushishvili shines on thrilling final day of Zagreb Judo Grand Prix
Comments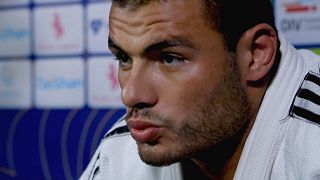 The stars of the World Judo Tour were celebrated in style on the thrilling final day of the Zagreb Grand Prix, where our man of the day was Georgia's Guram Tushishvili.
He was on fire during his elimination bouts, winning all but one of his contests by ippon and displaying some great judo.
In the final of the over 100 kilogram division, he faced Israel's Or Sasson in a match many judo pundits think could be the final of the world championships in two months time.
Having never fought before, the question of who would be strongest was answered emphatically with an incredible footsweep from Tushishvili, which flattened Sasson for ippon.
It was the icing on the cake of an amazing day for Tushishvili.
A thrilled Tushishvili thanked everyone for their support and has now set his sights on a gold medal in Baku.
"Thank you very much, of course I am extremely happy that I became the Grand Prix Champion here. I've been training for this - specially for this - Grand Prix very much. Everything was good for me, I beat all of my rivals here and I'm very happy because of this result here in Zagreb. To say it straight - I will fight only for a gold medal in Baku, then we will see," Tushishvili said.
WOMAN OF THE DAY
Our woman of the day came from neighbouring Slovenia, with Anamari Velensek claiming top honours in the over 78 kilogram division.
In the final she took on Nihel Cheikh Rouhou of Tunisia and came up with a moment of brilliance on the ground, catching her opponent in an armlock to score ippon.
It was a great confidence boost for her ahead of the World Championships.
"It's a really good feeling, you know, because it's near my home so my friends and family can come and it's almost like fighting at home," Velensek said. "I think this is good for me that I know that I'm on the right path for the World Championships and that preparation is going well," she added.
RUSSIA'S NIYAZ ILYASOV WINS GOLD IN UNDER 100KG DIVISION
Awarding the medals for the under 100 kilograms division was Croatian Minister of Interior Dr. Davor Božinović. The recipient of the gold was Russia's Niyaz Ilyasov, who defeated Kyle Reyes of Canada in the final by waza ari.
Elsewhere, Madeleine Malonga took gold for France in the under 78 kilograms division after beating Slovenia's Klara Apotekar by two waza aris in the final.
MOMENT OF THE DAY 
The moment of the day was the final of the under 90 kilogram division as Avtandili Tchrikishvili took on Cuba's Asley Gonzalez with his wife and baby watching on.
A waza ari would be enough to give the former World Champion at under 81 kilograms his first World Judo Tour gold at under 90 kilograms.
And there were emotional scenes as the Georgian embraced his son in the moments after his victory - a proud day for a proud father.
MOVE OF THE DAY
And finally, in a moment of pure brilliance, Russia's Inal Tasoev produced our move of the day, throwing Brazil's Ruan Isquierdo in just 6 seconds with an incredible sode tsurikomi goshi.