Swiss catamaran wins Blue Ribbon Regatta in Hungary for second time
Comments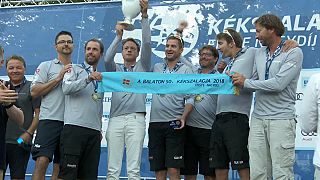 There were happy faces as the Swiss catamaran, Safram, won the 50th edition of the Kekszalag (Blue Ribbon Regatta) in Hungary for their second time.
The Hungarian team, the Fifty-fifty crew came third place.
And Hungary came second with the PreVital team.
The winners, Safram celebrated with champagne after sailing for just over 12 hours (12 hrs 40 minutes and 31 seconds).
Skipper of Safram (the winner), Rodolphe Gautier says, "Well, they have beautiful landscape. The lake is fantastic for racing because the shores are quite close and you see a lot of spectators who are enjoying the lake as well as this race and this is something which is quite different from the other lake".
Lake Balaton is a freshwater lake and the largest in central Europe.
András Holzhauser, is the general secretary of the Hungarian Yachting Association and says, "The Kékszalag (Blue Ribbon Regatta) is the oldest inland lake regatta in Europe, the first one was organized in 1934 on Lake Balaton, which is the biggest lake in Central Europe. The start of the regatta is always at Balatonfüred (it is the name of a town)".
Our Eurnews reporter, Veronika Rippel says, "The 50th jubilee Kékszalag (Blue Ribbon Regatta) was a great success according to the participants and the organizers. After the competition and the hard work of course, comes the well-deserved celebration."