Soaring prices of vanilla affecting Madagascar farmers
Comments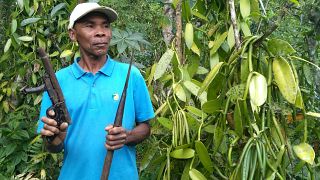 Soaring prices for Madagascar's vanilla should have been good news for farmers but now, because thieves stole many crops last year, it's now a stressing and worrying time.
The island off the south east coast of Africa produces nearly half of the world's crop and local livelihoods depend on it.
Police and vigilante groups say they've caught around a thousand vanilla thieves so far and local farmers are taking matters into their own hands.
Jao Nasaina is a vanilla farmer and says, "Vanilla thieves cut off the vanilla plants and the pods. They cut vines put them in bags. So I have become more vigilant, and this year I bought a spear and a small pistol to protect myself and my farm."
The fragrant spice is Madagascar's biggest export as it produces up to 6,000 tonnes of green vanilla each year and last year exported 1,600 tonnes of processed beans valued at €583 million ($680 million).
It's well ahead of Indonesia, the number two natural producer.
But since prices soared in the last three years, many buyers have turned away from the natural product.
Imitation vanilla is cheaper but it's not so environmentally friendly to produce. But just 1 percent of vanilla flavoring comes from the flower. So that's why it's expensive and is also on a par with sales of saffron crops elsewhere.
Farmers hope that prices this year will be equal to last year - a kilo of green vanilla was retailing for about €39 ($46) to €53 ($62), or higher.