Migrants storm fence at Spain's Ceuta enclave
Comments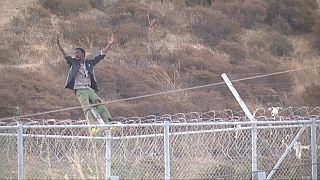 Pressure has increased on the Spanish authorities after around 800 migrants stormed border fences separating Spain's North African enclave of Ceuta from Morocco to get into Europe.
Dozens were injured in what was described as an incursion of 'unprecedented violence'
The group wore defensive equipment such as home-made shields and body armour, the Guardia Civil said, and once through the fence continued to attack agents and security vehicles.
Sub-Saharan Africans living illegally in Morocco try to get to Europe each year by climbing rows of six-metre high fences surrounding enclave.
Those who make it across head for the crowded, temporary migrant accommodation centres - a facility already overflowing with 650 current residents for its 520 places.
Migration has become a political issue in Spain since Socialist Prime Minister Pedro Sanchez took agreed to receive more than 600 migrants aboard a charity-run ship rejected by Italy and Malta in June.
Police said 16 migrants and five officers were taken to the hospital