Viagra trial for pregnant Dutch women shut down after 11 babies die
Comments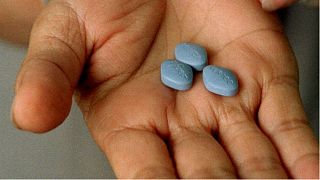 Scientists in the Netherlands have shut down medical research examining whether Viagra could help boost growth in the womb following the deaths of 11 babies.
The Dutch study began in 2015 and gave sildenafil — a blood vessel dilator commonly sold under the brand name Viagra — to pregnant women whose babies had severe growth restriction and a poor prognosis.
In a statement provided to Euronews, the Amsterdam University Medical Centre, which led the research carried out by 11 hospitals, said it was hoped that the medication would "improve the function of the placenta and growth of the unborn child, as was suggested in previous research."
However, the trial was immediately shut down when early results showed that sildenafil "may be detrimental to the baby after birth".
At the point the study was cancelled, the results were known for 183 women, of whom 93 had taken the drug and 90 had taken a placebo.
Of the 93 in the sildenafil group, 17 babies developed lung problems, of whom 11 have since died. A further eight babies died of unrelated conditions.
In the placebo group, three babies had the same lung condition but none of them died. Nine babies died of unrelated conditions.
Some 10-15 women who participated in the study are now waiting to find out if their child has been affected by the drug, according to local media reports.
In its statement, Amsterdam University Medical Centre said the results showed "the chance of a disease of the blood vessels of the lungs appears to be greater and the chance of death after birth seems to have increased" as a result of sildenafil.
It said all participants were approached personally and "almost everyone" was informed of whether they had taken the drug or the placebo.
Dutch researchers say they will now examine the available data and monitor the development of the children who have taken part.
"The adverse effects [of sildenafil on pregnant women] that have been found were unknown to date. The researchers expect that the use of sildenafil for this application will stop worldwide," the statement said.