South Africa: 11 taxi drivers killed in ambush
Comments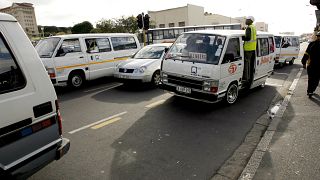 Copyright

REUTERS/Mike Hutchings
A gunman in South Africa opened fire on a minibus carrying members of a taxi drivers' association, killing 11 and critically wounding four others, according to a statement from the South African police service.
The attack happened on Saturday night when the taxi drivers were coming back from a colleague's funeral, said local authorities.
The taxi drivers — who were from the central Gauteng province — were heading back to Johannesburg.
The ambush took place between the towns of Coleno and Weenen in the coastal South African province of KwaZulu-Natal.
Police are still investigating the motive for the ambush and working on identifying the suspects.
Rivalry between minibus taxi driver groups fighting for control of routes in South Africa has turned violent in the past.
Ten people were killed in violence related to rivalries among minibus taxi drivers in Cape Town in May, South African media reported.