UK police make 'largest ever' cocaine bust
Comments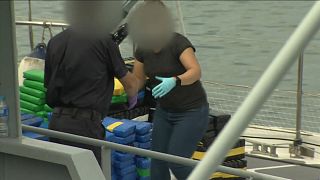 Two Dutch nationals are facing drug importation charges after British Border Force officers raided a yacht in Cornwall,
The UK's National Crime Agency says the precise quantity of the confiscated drugs isn't known but described the haul as "one of the largest seizures of class A [drugs] ever in the UK...with a potential street value likely to be in the hundreds of millions".
"Clearly people who are involved in the importation of large amounts of controlled drugs are serious organised criminals," said Andrew Quinn, Regional Head of Investigations for the National Crime Agency. "They're the ones that we're targeting. Obviously trying to stop the drugs coming into the country like we have done till today."
Police raided the yacht as it came into dock at Newlyn Harbour.
The harbour was closed for several hours as the raid was carried out.
Fifty-nine-year-old Maarten Pieterse and 44-year-old Emile Schoemaker appeared at Bristol Magistrates Court via video link on Saturday (July 21).
They were remanded in custody and will appear at Bristol Crown Court on August 20.