Judicial reforms met with protests in Warsaw
Comments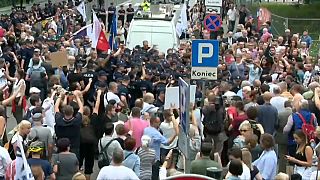 Hundreds of demonstrators gathered in Warsaw on Friday (July 20) to protest changes to Poland's judiciary.
Four people were detained and two police officers were wounded.
The crowd gathered outside parliament, shouting "Shame" and "Europe protect us".
Poland's ruling Law and Justice party has been pushing through major judicial reforms since it took office in 2015.
The government says the changes will make courts more efficient but opponents say they undercut judicial freedom and give politicians too much control over judges.
The latest changes took effect in July and forced 22 Supreme Court judges into early retirement.
On Friday, parliament adopted rules to swiftly name a new head for the Supreme Court.
Poland risks losing billions of euros in European Union aid for infringing on democratic principles but the government says it will not reverse the changes.