Hundreds protest in Poland at judge retirement law
Comments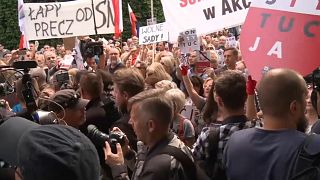 Hundreds of protesters gathered in Warsaw to support the head of Poland's Supreme Court, Malgorzata Gersdorf, following the introduction of a new law which forces dozens of top judges to retire early.
Changes introduced by the government will mean up to 40 percent of Supreme Court judges will lose their jobs. Ministers say it will help fight corruption.
65 year-old Gersdorf was told she must stand down by the end of Tuesday but remained defiant.
She said: "I am defending the legal order of the state and I want to give testimony to the truth about the existence of a border between the constitution and the violence of the constitution."
Gersdorf says the reforms, which force judges to retire at 65 rather than 70, are a purge and supporters are angry that her replacement has already been named.
The European Union says Poland's new law undermines judicial independence and has launched a legal challenge against the right-wing government.