Germany triples compensation for terror victims' families
Comments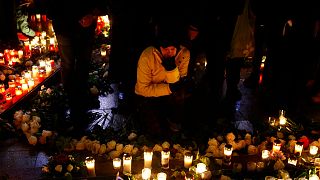 Copyright

REUTERS/Fabrizio Bensch
Germany has tripled the amount of financial compensation awarded to the families of people killed in terrorist attacks, the federal government's commissioner for victims of terrorism has said.
Citing the Bundestag's newly-passed budget, Edgar Franke told the Neue Osnabrücker Zeitung newspaper that spouses, children, and parents of terror victims will now be entitled to €30,000, while siblings will receive €15,000.
Until now, they had been entitled to €10,000 and €5,000 respectively under the hardship benefit — a one-time lump sum offered to loved ones after an attack.
The increase follows criticism over the government's handling of the aftermath of the December 2016 truck attack on a Christmas market in Berlin, when some of the relatives of the 12 people killed complained of a lack of support.
The commissioner for victims of terrorism — a position created last year — said payments would be awarded retroactively to cover incidents such as the Christmas market truck attack, and that relatives of Germans killed abroad would also qualify.
In total, some 300 people are expected to receive the increased amount.
Franke did not immediately respond to requests from Euronews for comment, but he shared the remarks to Neue Osnabrücker Zeitung on his website.
The politician told the newspaper that because terrorists seek to attack the state, "the state has a special responsibility" to help victims' relatives.