Cuba's new cabinet signals continuity rather than change
Comments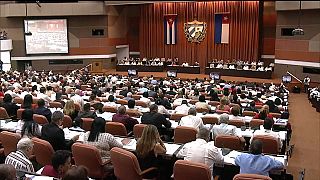 Cuba's new President Miguel Diaz-Canel has named his new cabinet.
The 58-year old's keeping a majority of ministers from predecessor Raul Castro, signaling continuity rather than change.
Politicians holding the key posts of defense, interior and foreign relations remain and all except one of the former vice presidents on the council of ministers are unchanged.
Cuban President Miguel Diaz-Canel says, "I take this opportunity to recognize in this Parliament the dedication of work and the fulfillment of the duty of all those who today are fulfilling their responsibilities and assuming new functions."
Cuba's replacing its Soviet-era constitution with a new one to reflect and implement political and economic changes.
It's designed to make its one-party socialist system - one of the last in the world - sustainable.