Crickets behind 'sonic attack' on US staff in Cuba, scientists say
Comments
By Associated Press & Alice Tidey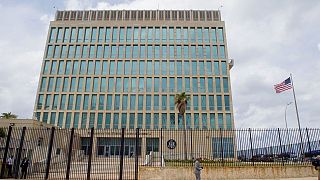 US diplomats in Cuba started experiencing health problems including ear pain and vertigo in late 2016 after reporting hearing strange noises.
American intelligence agencies suspected they'd been the target of a sonic attack conducted by a weapon blasting sound or microwaves.
Medical exams, which found that nearly two dozens US personnel presented signs of brain injuries and concussions, seemingly reinforced that theory.
But two scientists who analysed an audio recording of the sound suspected to be related to the incidents, which was released by the Associated Press agency in October 2017, concluded last week that the noise could be the echoing call of crickets — more specifically, the Indies short-tailed cricket.
Still, they did not discard the possibility of a deliberate attack.
'Attacks targeting US embassy'
The affair, which started in late 2016 with further cases as recent as April 2018, threatened to torpedo the newly-reinstated diplomatic relations between the US and Cuba.
The US recalled most of its diplomatic staff on the island and updated its travel advisory urging Americans to "exercise caution in Cuba due to attacks targeting US Embassy Havana employees."
Canada, whose embassy staff were affected as well, also withdrew personnel.
American intelligence agencies including the FBI and the CIA reportedly pointed the finger at Cuba — which has denied any involvement — and Russia but eventually said that no evidence of an attack had been found.
Cricket's acoustic signature
Alexander Stubbs of the University of California, Berkeley, and Fernando Montealegre-Zapata of the University of Lincoln, UK, said in their study that the sound, described as "high-pitched", was matched in "nuanced detail" by "the calling song of the short-tailed cricket."
Here's the recording of the suspected sound:
"The AP recording also exhibits frequency decay in individual pulses, a distinct acoustic signature of cricket sound production.
"This provides strong evidence that an echoing cricket call, rather than a sonic attack or another technological device, is responsible for the sound in the recording," they added.
They also argued that any inconsistency was due to the recording having been made indoors, which may have distorted the sound slightly.
Still, they added that more research was needed to determine the source of the embassy staff's ailments and that their findings did not rule out an attack.