Biden: Migrant family separation "one of the darkest moments in our history"
Comments
By Vaughn Hillyard with NBC News U.S. News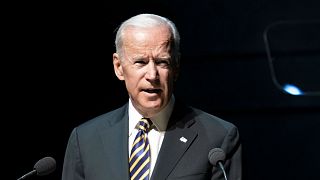 Copyright

Ritzau Scanpix/Keld Navntoft via REUTERS
PHOENIX - The Trump administration's separation of migrant children from their parents is "one of the darkest moments in our history," former Vice President Joe Biden contended on Friday night.
"Grotesque lies—lies about immigrants, about crime, about costs to the community. They're simply lies—factually inaccurate," said Biden. "And look folks, this administration's policies that literally rip babies from the arms of their mothers and fathers — one of the darkest moments in our history."
Speaking to more than 1000 attendees of the national convention for LULAC, the country's largest Latino civil rights organization, Biden said the administration's policy over the summer was part of its "all-out assault on human dignity."
On Friday, the Trump administration said it had reunified 450 of more than 2,500 migrant children just one week away from a court-ordered deadline. Parents whom are given final deportation orders must decide between leaving their children in the U.S. or agreeing to reunification and, consequently, deporting their children as well.
Biden, who returned from trips to Denmark and Colombia in the last month, told the gathering of Latino activists that the country's "reputation is being tarnished around the world."
But he broadened his characterization of the "shame" by the administration's "assault on our dignity."
"It doesn't just reveal itself in the betrayal of the Dreamers or the pardoning of a sheriff who has terrorized the community," he said. "It is also in the underfunding of our schools, and the attacks on labor, and the ability of workers to bargain for their own worth."
The former vice president also condemned the Trump administration's response to the destruction and thousands of deaths in Puerto Rico following Hurricane Maria.
"We're in a situation where we were told everything was basically all right," Biden stated. "You know why it happened. I don't believe these guys in this administration actually believe Puerto Ricans are Americans. They're American citizens already."
Biden has not ruled out a 2020 presidential run but has suggested a decision will come by the end of this next winter. He attended a fundraiser for Arizona Democratic Senate candidate Kyrsten Sinema ahead of Friday night's remarks.