British Novichok survivor Charlie Rowley regains consciousness
Comments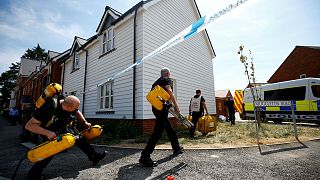 A British man exposed to the Novichok nerve agent has regained consciousness, and is now in a critical but stable condition, according to the hospital treating him.
Salisbury District Hospital said Charlie Rowley, 45, had made a "small but significant improvement".
"While this is welcome news, clearly we are not out of the woods yet. Charlie is still very unwell and will continue to require specialist, round-the-clock care here at Salisbury District Hospital," the statement said.
Rowley has been in hospital since June 30 after being exposed to the nerve agent,
His partner, 44-year-old Dawn Sturgess, who was also exposed to the substance, died on Sunday.
Police are currently searching for a "contaminated item" that could have exposed the pair to the nerve agent, which is the same substance found in the poisoning of former Russian spy Sergei Skripal and his daughter Yulia in nearby Salisbury.