Trump says he 'misspoke' after Putin meeting, accepts Russian election meddling
Comments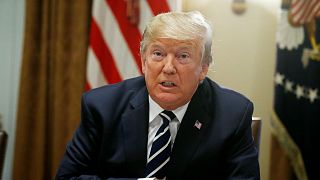 US President Donald Trump has made an about turn on controversial remarks he gave at a joint press conference with Russian President Vladimir Putin on Monday, saying he "misspoke" and accepts intelligence agencies' conclusion that Russia meddled in the 2016 US election.
Trump has come under fire since the press conference, in which he said he saw no reason to believe that Russia had hacked the election, contradicting US intelligence agencies' reports.
Speaking to reporters in the Oval Office on Tuesday, Trump said he had misspoken. 
"I said the word 'would' instead of 'wouldn't,'" Trump told reporters. "The sentence should have been, 'I don't see any reason why it wouldn't be Russia.'"
He added that he had full faith and support for US intelligence agencies and accepted their conclusion that Russia meddled in the election.
But he said Russian actions had no impact on the outcome of the vote and the administration would work to protect the November 2018 congressional elections.
Trump's reversal came amid fierce criticism over the remarks from both Democrats and Republicans. 
US House Speaker Paul Ryan said on Monday there was "no question" that Moscow interfered in the  election and that Trump "must appreciate that Russia is not our ally."
Adam Schiff, the  top Democrat on the US House of Representatives intelligence panel, said Putin would take Trump's comments as "a green light to interfere in 2018".
Many other politicians echoed the concerns that Trump had undermined the intelligence agencies and shown weakness. 
After his about turn on Tuesday, Senate Democratic leader Chuck Schumer accused Trump of cowardice, saying it's "twenty-four hours too late, and in the wrong place."
If Trump "can't say directly to President Putin that he is wrong & we are right & our intelligence agencies are right, it's ineffective & worse, another sign of weakness," he wrote on Twitter.