As it happened: Tuesday, July 17
Comments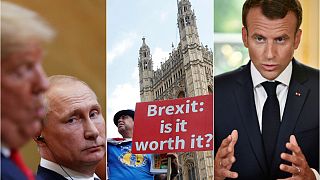 Here are the key developments and stories so far:
Trump slammed after Putin summit: US President Donald Trump met his Russian counterpart Vladimir Putin for landmark talks in Helsinki on Monday in which he sided with Russia over claims of interference in the 2016 election, sparking strong criticism at home.
Brexit campaign group fined: Vote Leave, a key Brexit campaign group, is fined and referred to police for breaking electoral law, says UK elections watchdog.
Brexit turmoil: British MPs will vote on more post-Brexit laws today as the country's future relationship with the EU continues to split the ruling Conservatives. Prime Minister Theresa May yesterday made concessions to the most hardline Brexiters in her party in a bid to contain the fallout from her latest strategy for splitting from Brussels.
Macron reforms: French President Emmanuel Macron will receive labour unions and company representatives at the Elysee Palace to define his social agenda after months of strikes.
EU-Japan trade agreement: Brussels and Tokyo have put pen to paper on the world's biggest free-trade deal.
This is how our live coverage evolved today: