How France won the World Cup
Comments
By Alexander Macrae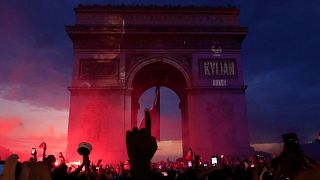 They hadn't won a World Cup since 1998, so how did France reclaim their title as the World Cup winners?
Kylian Mbappe
In every World Cup winning side there is one player who stands out, they will drag their team through games and score goals at vital times, Kylian Mbappe is that player for France. Mbappe won the Young Player of the Tournament award and rightly so, his pace and direct style of play causes all sorts of problems for defenders and gives him and his teammates space to work in. Mbappe scored four goals at the World Cup, and all of them came at crucial moments. His first came against Peru in the group stage as his goal secured a 1-0 win for France, gaining them a vital victory. Mbappe's second and third goals came in a performance that will likely be remembered for some time, the young Frenchman won a penalty and scored the two excellent goals against Argentina in a game that Les Bleus ultimately won 4-3. You can easily say that without Mbappe the now World Champions could have gone out of the tournament at the Round of 16 stage. Mbappe's final goal of the tournament came in the World Cup Final, he made it 4-1 and all but wrapped up the title for his team.
The young PSG man comes away from the tournament having impressed the world and when you consider that a certain Pele is the only other teenager to have scored two goals in a single World Cup game and scored in a final you realise the ability that Mbappe may possess. Looking forwards now Mbappe will likely go on to help his country win plenty of other games and maybe a few other titles, he will probably win individual awards as well. But when France look back at this World Cup, they may say that without Kylian Mbappe they would not have won the tournament, and that is surely the highest praise any player can receive.
Antoine Griezmann
Griezmann has been at the top level of football for some time now, and with that experience comes a calm and an experience that is extremely useful on a football field. Whether it's tucking away penalties in pressure moments such as a World Cup Final! Or winning your team a "dubious" free kick in the final from which your team scores! Griezmann is clearly vital to this French side and like Mbappe Les Bleus will likely look back at the tournament and know that without the Atletico Madrid man things may have been very different.
Raphael Varane
Varane has had a pretty good year, Champions League winner and now a World Cup winner, and you have to say that he was crucial to both. Sergio Ramos is the main man defensively for Real Madrid but when it comes to France it's all about Varane, he is a leader at the back and often makes towering headed clearances to help his team out. He can also chip in with important goals as he did when he opened the scoring against Uruguay. The young french centre-back is clearly extremely talented and will likely be at the heart of any further French success in the years to come.
Team tactics
"France are just an anti-football team" That was what Belgian goalkeeper Thibaut Courtois said about France after they defeated Belgium in the World Cup Semi-Final. But actually, throughout the tournament France have played some very good football. The game against Argentina in the Round of 16 finished 4-3 with some excellent goals, they also scored four in the final against a dogged Croatian side with some very talented players. In truth it looks like Didier Deschamps got the French tactics spot on through the tournament even if that meant playing out a drab 0-0 draw with Denmark in order to guarantee top spot in the group.
The game that turned it all around
France had been lackluster at times in the group stages, but they had done what they needed to do. So when they came up against Argentina you wondered whether they would turn up and do enough or turn on the style, strangely enough, they did both, their performance in that game made the rest of the teams pay attention to them, and it was just enough to see off a very talented Argentinian side. After a few quieter games Les Bleus were ready to show up and from there they never looked back, the Argentina game may well be the game that changed everything for France and it may have spurred them on to win the World Cup itself.