Bikini-clad blimp of London mayor to take to skies
Comments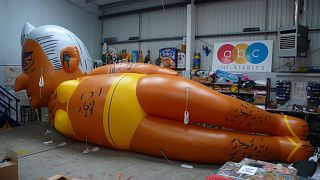 Protesters have been given permission to fly a bikini-clad giant blimp of London Mayor Sadiq Khan over Westminster this weekend, after raising more than £58,000 (around €64,000) for the stunt.
A fundraising page for the balloon was launched in response to the giant Donald Trump baby blimp that flew above the city to protest his first presidential trip to the UK in July.
"[Let's] see if FREE SPEECH applies to all and whether or not Mr Khan and the London assembly will also approve this," organiser Yanny Bruere wrote on the Crowdfunder page.
"Under Sadiq Khan, we have seen crime skyrocket to unprecedented levels. People in London don't feel safe and they aren't safe, 81 murders this year alone! Khan Out," the self-described free speech advocate added.
More than 3,400 people have donated to the balloon, which depicts Khan in a yellow bikini in a nod to the mayor's move in 2016 to ban "body-shaming" adverts on the tube showing a woman in similar swimwear.
Bruere has pledged that any surplus money raised for the balloon will be used for an ongoing campaign to remove Khan from office and for defending free speech, which he said is "constantly under attack".
As of Thursday afternoon, some 700 people had signed up to the Facebook event to see the 29-foot blimp, while almost 5,000 others indicated that they were "interested".
A spokesperson for the Mayor of London said City Hall had spoken with the organisers and given them permission to use Parliament Square Garden for the protest on Saturday morning, adding that officials were working with the Metropolitan Police and other agencies to ensure the event was safe and secure.
"If people want to spend their Saturday looking at me in a yellow bikini they're welcome to do so — I don't really think yellow's my colour though," Khan said of the protest.