Interpol's stolen vehicle database
Comments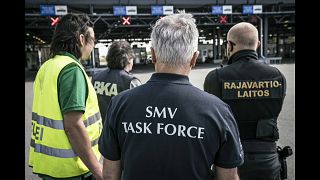 At the Vaalimaa crossing on the Finland-Russian border, more than a thousand cars passing through were analysed for links with criminal activities.
Supported by Interpol, the four day operation took place just before the opening of the World Cup in Russia.
It was part of efforts to crack down on stolen motor vehicles across the world.
"Vehicle crime is a highly organized criminal activity affecting all regions of the whole world and with clear links to organized crime and terrorism. Cars stolen in Europe have been found as far away as South America and Australia", says Interpol Executive Director of Police Services, Tim Morris.
Interpol deploys vehicle specialists at the request of member countries, typically at border crossings or sea ports.
Last year, Interpol's databases contained more than seven million vehicle records from 126 countries.
It also identified around 118,000 stolen motor vehicles worldwide.
"The more technological is the car, the more technology is exploided (employed) by criminal gangs in order to steal the car. Today we are facing "keyless go" car thefts. So it means that even without any intrusion in the car, from remote the criminals can access the keycode and drive away with the car in less than one minute", says Renato Schipani, who coordinates Interpol's efforts against stolen motor vehicles.
Interpol brings together police officers and private investgators internationally who specialise in vehicular crime.
Since 2009, Interpol has supported 14 operations, helped seize a 150 stolen vehicles and arrested 100 inviduals.