Scores arrested in Interpol-led firearms operation
Comments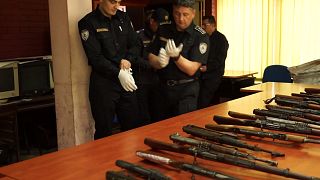 Hundreds of firearms, including a rocket launcher and a machine gun have been seized in a series of international police raids.
The Interpol-led operation targeted the illicit trafficking of weapons from countries in eastern Europe and the Balkans.
A total of 321 firearms were recovered and 149 people arrested during the operation, which covered 23 countries.
Almost 20,000 pieces of ammunition were seized across a 48-hour period from the 6th to the 8th of April.
Around 8,000 officers were involved across the participating countries.
At INTERPOL, we run a number of initiatives to help member countries protect their citizens from #terrorism: https://t.co/DMyOARMxSRpic.twitter.com/NgjFeC77xh

—

INTERPOL

(@INTERPOL_HQ) April 12, 2017
With increased concerns over terrorism and the trafficking of illicit weapons, establishing a stronger police network in the field to break down the flow is a key aim of Operation Trigger.
What they are saying
"Success is not only measured by the number of checks, arrested people, the number of seized items and so on, using synchronised police actions in the same time in different countries we send a clear message to the criminals.
"The police officers from different countries around the world work together against organised crime," – Branislav Pavlovic, head of Interpol, Sarajevo.
"Nearly every recovered firearm comes from someplace else.
"So a country may enact strict firearms legislation but it still cannot control what happens in other countries, so as firearms are moving throughout the continent of Europe the danger for citizens is that firearms coming from sometimes 500 or 1000 kilometres away can affect the safety they have come to know in their own community," – John Hageman, Firearms Programme Chief, Interpol.
Firearms are easy to conceal and transport and offer lucrative profits to criminals trafficking in illicit light weapons.
Training on the #INTERPOL#Firearms Reference Table. https://t.co/PztU0LvPaZpic.twitter.com/boDDWSAIxa

—

INTERPOL

Training (@INTERPOL_CBT) November 29, 2016
Each year, firearms are used in more than 245,000 homicides worldwide, excluding war-torn countries, according to Interpol.
But it's only a small percentage of all crimes committed with firearms, which are widely used to threaten and support other criminal acts.
Last year, a similar operation in the Western Balkans, uncovered nearly 40 firearms, six kg of explosives, 11 hand grenades and 1,300 pieces of ammunition.
The 48-hour Operation Balkan Trigger targeted Bosnia and Herzegovina, Croatia, the Former Yugoslav Republic of Macedonia, Montenegro, Serbia and Slovenia.
The operation was in response to increased concerns over the illegal trafficking of weapons from the Balkans region into Europe for use in terrorist attacks.
.INTERPOL_HQ</a> seizes 40 firearms, explosives, & 1300 pieces of ammo in Balkans <a href="https://t.co/38nFjWgbCy">https://t.co/38nFjWgbCy</a> <a href="https://t.co/LQnXWet1ix">pic.twitter.com/LQnXWet1ix</a></p>&mdash; Chris Essner (ChrisEssner) April 21, 2016