World Cup animals: From psychic pigs to a mystic octopus — they'll never beat the deaf cat
Comments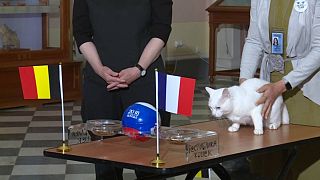 Since Paul the Octopus won the hearts of football fans around the world eight years ago, fortune-telling animals have been tasked with the dutiful job of predicting World Cup winners.
Achilles the deaf cat
This year's official animal is St Petersburg's Achilles the deaf cat, who has become one of the most accurate 'predictive' animals at this year's World Cup.
Achilles success rate has been 70% as he rightly predicted Russia's win over Saudi Arabia and Egypt. The cat, who even followed a diet in the lead up to the tournament, also foresaw Iran's win over Morocco and Brazil's win over Costa Rica.
The two-year-old feline predicts the winner by eating out of one of two bowls, each marked with the flag of teams playing a particular match.
However, he was wrong when he predicted victory for Nigeria against Argentina in the group stages — Argentina won 2-1. He also failed in his forecast for the first semi-final, predicting that Belgium would beat France. In reality, Les Bleu's won 1-0 — securing a place in Sunday's final.
Mystic Marcus the micro pig
Mystic Marcus, a micro pig from a farm in Derbyshire, England, chose Argentina, Belgium, Nigeria and Uruguay to make the final four of the competition.
The micro pig, sporting a wizard's hat and cape, made his predictions by eating four apples with the colourful flags of each of his selected countries attached to a wooden cocktail stick.
He's backing England to beat Croatia in the semi-finals.
Rabio the octopus
An octopus named Rabio has predicted Japan's results perfectly.
He foresaw their win against Colombia and their draw with Senegal by moving to different parts of a paddling pool. Each section — marked as win, lose or draw — had food placed in it to tempt the octopus.
Japan looked like they were heading for the quarter-finals, stunning Belgium with two goals in a four-minute period. However, they left heartbroken with Belgium scoring the winner late in the game.
While Japan's footballers are left to dwell on what might have been, at least they still have their health. Unlike Rabio.
Unfortuantey. The eight-legged sea creature has been killed and turned into sashimi. Rabio was sent to market before Japan lost 1-0 to Poland on June 28.
Zella the elephant
Elephants are said to be among the world's most intelligent animals — but being tasked with predicting the World Cup outcome is a difficult ask for anybody.
Zella the elephant, who lives in Stuttgart zoo, made her 'predictions' by picking balls out of a basket, using her trunk.
Zella predicted an early exit for Germany, and an overall victory for Senegal.
Mitya and Solnyshko the dolphins
Dolphins in the Russian city of Yaroslavl incorrectly predicted that Russia would win their World Cup quarter-final against Croatia 3-1 and move into the last four of the tournament.
The two aquatic mammals — Mitya and Solnyshko — in the Yaroslavl dolphinarium were thrown round discs depicting the flags of the two countries in their pool and had to bring them back.
Both came back at the same time for a 1-1 draw after the first run before the Russian flag was returned faster by Mitya in the last two throws for a wrongly predicted 3-1 result to Russia.
Marcel the pig
Marcel, a farmyard pig from a French village outside of Toulon, correctly predicted that France would beat Uruguay, and England would beat Sweden to the semi-finals.
He also accurately predicted that France would beat Belgium.
In the second semi-final he's backing Croatia to knock out England.