Serbian peace group marks Srebrenica anniversary in Belgrade
Comments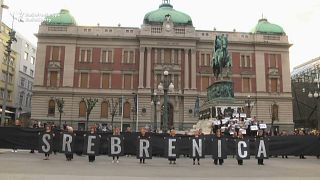 The Serbian peace group Women in Black marked the worst massacre of civilians in Europe since the second world war in Belgrade on Wednesday.
Bosnian Serb soldiers slaughtered over eight thousand Muslim men and boys in Srebrenica in Bosnia in 1995.
The killings were designated a genocide and General Ratko Mladic, the man who ordered them, was sentenced to life imprisonment by the International Criminal Tribunal for the Former Yugoslavia (ICTY).
Srebrenica was inside what was supposedly a safe area protected by the UN. Dutch soldiers who were UN peacekeepers at the time have been held partly responsible for some of the killings by the ICTY.
Twenty three years later and the victims are still being buried; this year 35 more bodies were identified and laid to rest.
It's a lengthy and painstaking process of recovering remains in the woods around the town and comparing them to DNS samples collected from the victims' families. There are still over 1,900 missing people.
Serbian authorities and the Serbian autonomous entity of Bosnia and Herzegovina have on several occasions condemned the massacre as a horrific crime, but have always refused to call it a genocide.