As it happened: Thursday, July 12
Comments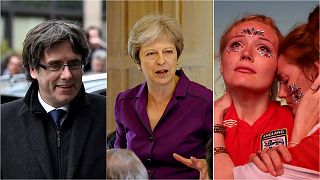 Here are the key developments so far: 
**Puigdemont's extradition: **Ex-Catalan leader Carles Puigdemont can be extradited from Germany to Spain for misuse of public funds, a court has ruled. 
Brexit turmoil: Theresa May's government today publishes its new plans for the UK's post-Brexit relationship with the European Union. They have already caused huge controversy with two senior ministers quitting in the last week.
World Cup: Croatia will meet France in the World Cup final in Moscow on Sunday evening after coming from behind to beat England 2-1 in extra-time.
Trump in Europe: Donald Trump will leave a fractious NATO summit in Brussels for a controversial two-day visit to the UK, where he will meet Theresa May and the Queen.
This is how our as-it-happened coverage evolved over the morning: