Italy's anti-immigrant interior minister visits migrant camp
Comments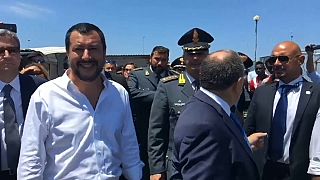 Italy's hard-line, anti-migrant interior minister has toured a crime-laden migrant camp in the southern Calabria region and vowed to enforce only "limited, controlled and qualified" immigration.
Matteo Salvini commented on the unsanitary conditions and the lack of water services and sewers.
He said: "On immigration, the Conte government has only one idea: to control the entrances and make war on the traffickers of human beings and on those who help them. Immigrant traffickers and members of the mafia are the same and I will try to fight them with all my strength because they are both human traffickers.
"Those who have the right to arrive in Italy and Europe must not arrive in a half-inflated dinghy. They have to arrive directly by plane and going through points of identification and protection beyond our borders."
Salvini has launched a crackdown on migration in recent weeks by closing Italy's ports to aid groups that rescue migrants.
He vowed to renegotiate the terms of European missions in the Mediterranean.