Watch: The latest twist to the European refugee crisis as Italy allows 450 rescued migrants to disembark in Sicily
Comments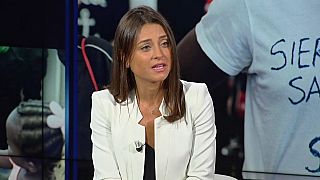 Despite toughening its stance to stem the flow of people, the Italian government says it will allow 450 rescued migrants to disembark in Sicily. 
Euronews correspondent Anelise Borges found herself at the heart of the cirsis when she spent ten days on board the Aquarius rescue ship last month and has made a documentary about the rescue. 
We also speak to our correspondent Claudio Lavango in Rome with more on the Italian response to the crisis and also Euronews' Bryan Carter in Brussels. 
The exclusive documentary, 10 days at sea, the real story of the Aquarius - premieres on Monday 16th July at 9pm CET only on Euronews.