France beat Uruguay 2-0, advance to semi-finals
Comments
By Alexander Macrae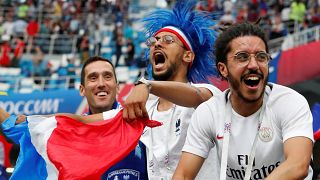 France are through to the World Cup semi-final after goals from Raphael Varane and Antoine Griezmann gave them a 2-0 victory over Uruguay.
Uruguay started the game well, they prevented France from getting much going by sitting in and counter-attacking. However, the French breakthrough came when Griezmann delivered a free kick from the right side and Varane glanced his header into the far corner. 
Uruguay almost got themselves level straight away when a free kick was played into the box and Martin Caceras headed goalwards but Hugo Lloris produced a brilliant save to keep the game level and Diego Godin couldn't score from the rebound.
France came out for the second half playing well, they pinned Uruguay back but couldn't find another goal. That was until Griezmann set his sights from the edge of the area and fired a goal. His shot was straight at Fernando Muslera but the keeper went to parry the ball away and it slipped through his hands and into the net. Uruguay put in some work but couldn't trouble France in the closing minutes and the French held on to win 2-0.
France go on now to face either Brazil or Belgium in the semi-final next Tuesday.
Five things we learned
Muslera's howler
When Antoine Griezmann hit his strike directly a the Uruguayan keeper Fernando Muslera, the French forward probably didn't expect to score. But as Muslera went to parry the ball away, his hands weren't strong enough and he only helped it into the net, it was a horrendous error and one that Muslera will have nightmares about for some time to come.
Missing Cavani
Edinson Cavani was badly missed by Uruguay. They struggled to get anything going in open play and Luis Suarez looked isolated and make no impact at all without his strike partner in the game. Cavani was outstanding against Portugal, scoring both the goals for Uruguay but he limped off and was too injured to play against France. His absence was notable and you can't help but wonder if he may have made a real difference to the outcome today.
Varane's performance
Raphael Varane's contribution in this game will be summed up with the goal that he scored to give France the lead, but he brought a lot more than that to the game. Varane defended very well for large periods of the game and he managed to keep Luis Suarez very quiet. Although Varane's goal was excellent, his defence is what gave France the platform to win the game.
Lloris' save
In a game where Fernando Muslera gave France a goal, Hugo Lloris took one away from Uruguay. Just after they went behind, Uruguay had an attacking free kick. They whipped the ball in and Martin Caceres headed the ball goalbound. It looked to be in until Lloris leapt across and kept the ball out with a strong hand before jumping up again and pressuring Diego Godin so he missed the rebound. The save was as good as a goal and when you look back, is a moment that may have just won France the game.
Lloris v Dragonfly
Hugo Lloris thought he was facing off against Uruguay today, but he had another battle that he did not expect. A dragonfly attempted to enter the French keeper's mouth but much like Uruguay there was no way past and Lloris denied the dragonfly entry. Obviously things like this don't go unnoticed and the internet did its thing.