French ambassador who backed Orban is awarded Hungary state honour
Comments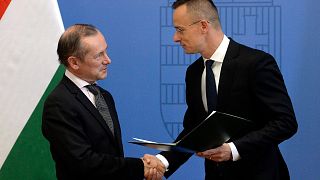 The accolade is usually bestowed upon leading Hungarian scientists, artists and athletes. But on Friday the outgoing French ambassador to Hungary was awarded the country's highest honour, days after a diplomatic memo leaked in which he praised Hungary's Prime Minister Viktor Orban and his migrant policy.
Orban's policy is a stark contrast to the French government's, forcing French President Emanuelle Macron to publicly rebuke the ambassador, Eric Fournier.
Fournier was given the Order of Merit, Commander Cross, by Foreign Minister Peter Szijjarto at a ceremony in Budapest.
"Amidst today's European disputes we need friends, and Eric Fournier is just such a friend to Hungary", Szijjarto said.
"A good diplomat can be recognised by the fact that they consistently represent the position of their homeland, while still maintaining their common sense. Éric Fournier fully conforms to this expectation", he added.
Last month, a confidential note addressed to the French President's office from Fournier was leaked to the press, in which he endorsed Orban's migrant policy as a "model" for other countries and said claims that the Hungarian prime minister was a populist and extremist were being fueled by "Hungarophobia" in the media.
In the memo, which was published by investigative website Mediapart on June 29, Fournier added that French media reports of anti-Semitism in Hungary distracted from the "real anti-Semitism" from "Muslims in France and Germany".
When asked about his comments, Macron said his views were not shared by Paris.
"Had this ambassador said this publicly, he would have been dismissed immediately," the French president said at a news conference in Brussels last week.
Within hours, a newly released French government gazette reported that fellow diplomat and former OECD Ambassador Pascale Andreani would replace Fournier, who was already leaving the Budapest post.