Macron left red-faced after ambassador praises Hungary's Orban
Comments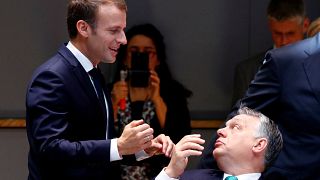 -
Copyright

REUTERS/Francois Lenoir/File Photo
French President Emmanuel Macron firmly rebuked the outgoing ambassador to Hungary after he praised Viktor Orban's migration policy in a leaked confidential cable.
In the cable dated from June 18 and published by French investigative online newspaper Mediapart last week, Fournier wrote that Hungary was a "model that managed to anticipate the problems that arose with illegal migratory movements."
He also denounced the "intellectual habit" of "Anglo-Saxon and French media to brand as "populist" any democratically elected regime that does not match their vision of the world."
Finally, Fournier also brushed aside criticism of anti-Semitism lobbed at Orban, assuring instead that the "true modern anti-Semitism" came from "Muslims in France and Germany."
Orban drew international criticism in 2015 for erecting a razor-wire fence at Hungary's border with Serbia to stop migrants from crossing into the country.
He has also been criticised more recently for his "Stop Soros" law — named after Hungarian-American financier George Soros — banning individuals and organisations from providing any kind of assistance to undocumented immigrants.
'Not the official French position'
For Macron, who has criticised several eastern European leaders, including Orban, for their stance on immigration, the leak came at a particularly sensitive time.
On Friday, he attended an EU leaders' summit in Brussels where he and German Chancellor Angela Merkel were pushing for more solidarity across member states.
Speaking on the sidelines of the summit, Macron said that the opinion detailed in Fournier's memo was not "the expression of the official French position."
"Had this ambassador said this publicly, he would have been dismissed immediately," Macron also said, stressing that the memo was confidential in nature.
Fournier replaced
Fournier is expected to leave his position in mid-July to be replaced by Pascale Andreáni, whose appointment was made official on June 28 by a decree published in the official gazette.
In a statement on Monday, a French Foreign Affairs spokeswoman told Euronews in a statement that Fournier's "departure is part of a general movement of ambassadors."
"Mrs Pascale Andréani will succeed him shortly, following the approval received from Hungarian authorities on 18 May 2018," she added.