Belgian supermarket grows its greens on the roof
Comments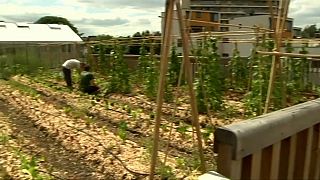 Trying to create the shortest supply chain possible, a supermarket in Brussels is selling produce grown on its own roof only hours after being harvested.
Delhaize, a Belgian supermarket chain part of Ahold Delhaize, said it launched the "Urban Farm" project to satisfy the growing number of consumers who are concerned about where their food is sourced and eating healthy.
"The products are harvested in the morning at 8 o'clock and an hour later they're in the store," store employee Marie Delvaulx said.
The garden on the 360-square-metre roof also generates its energy sustainably with solar panels and by recuperating heat from the store building.
The farm - which this year produced tomatoes, lettuces and strawberries - operates year round and can withstand the cold months thanks to a greenhouse.
Creating a farm in a roof on city comes with some challenges. The produce can easily be destroyed because the farm lacks biodiversity to mitigate the damage from insects, and there also is the question of the weight constraints.
While the farm, the first of its kind in Delhaize stores, currently only produces a fraction of the supply needs, it will serve as a test for expanding the program to other stores.